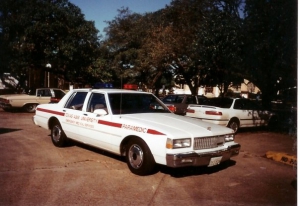 1970s: The Beginning
In 1976, a Texas A&M University student named Jim Persons saw the need for creating a first responder service to cater to the growing need for medical services on campus. Later that year, he was able to receive funding to purchase the first batch of basic life support medical equipment, which consisted of 2 medical bags, a backboard, and some splints. With four other volunteer students behind him, Texas A&M University allowed him to create a student organization called Texas A&M Emergency Care Team.
At the time, the Emergency Care Team, or TAMECT as it is now known today, was responsible for staffing some university sponsored events on campus, including basketball games and Corps of Cadet events. For the next few months, all their equipment was stored in a small closet in the basement of the AP Beutel Health Center. A few years later, Student Health Services assigned TAMECT a newly renovated squad room in the basement of the Health Center, just across the hall from their previous storage closet.
For the next couple of years, TAMECT grew in size and by 1979, there were well over 40 active members on the roster. The athletic department on campus started to see the value of TAMECT and decided to hand responsibility of staffing medical first aid stations at home football games to TAMECT. TAMECT jumped at this opportunity and excelled at providing first responder basic care to the then 50,000 attendees present at home football games at Kyle Field.
1980s: The First Ambulance
In 1980, the Health Center gave TAMECT its first ambulance, a medically equipped station wagon at the time. TAMECT became one of the first ambulance services in Brazos County, offering advanced life support care to its patients. In its first year, TAMECT responded to 500 calls for emergency assistance.
1990s: The Formation of Texas A&M University EMS
Texas A&M Emergency Care Team's ambulance division continued to provide 911 emergency service to Texas A&M University throughout the early 1990's. Eventually, Texas A&M split the ambulance division of TAMECT and made it into a campus service under the direct control of Student Health Services. Thus, this new service was officially recognized as Texas A&M University Emergency Medical Services, which gave insurance protection to its members and was able to meet other state and federal regulations. TAMECT retained its status as a student organization and to this day continues to mentor those interested in healthcare. Care Team's website can be found at tamect.tamu.edu.
At 2:42am on November 18, 1999, twelve students lost their lives and 27 others were injured when the annual Aggie Bonfire collapsed while it was being built on campus. The combined rescue efforts of Texas A&M University EMS, Texas A&M Emergency Care Team, College Station Fire Department, and Bryan Fire Department worked gallantly to insure that more lives were not lost in this tragedy in Aggieland's history. In the aftermath, the original founders of Texas A&M University Care Team and Texas A&M University EMS worked together to create an alumni organization so that former members of either organization can combine their resources together for future use. Thus, the Former Aggie Medics Association was officially organized. This association offers members of Texas A&M University EMS and Texas A&M University Emergency Care Team assistance in obtaining EMT scholarships, internships, and much more.
2000-Present: Texas A&M University EMS
Texas A&M Univeristy EMS is a member of the National Collegiate EMS Foundation, an organization dedicated to promoting the ideals and reputation of campus-based, student-run emergency medical services.
In 2000, Texas A&M University EMS moved their operations to a new station located on the second floor of the AP Beutel Health Center which provided more modern accommodations.
Through the years, Texas A&M University EMS has upgraded much of its equipment. Among the most significant are 12-lead EKG monitors, capnography, and advanced pain management. Our dispatch center is currently computer based, using a commercial computer-aided dispatch program as well as advanced 911 recording equipment. In 2003, Texas A&M University EMS moved from paper based patient care reports to computer based patient reporting.
Texas A&M University EMS and Texas A&M Emergency Care team remain closely tied to each other through their work at home football games and other large scale university events.
In 2007 Texas A&M University EMS added paid paramedic staff to mentor student volunteers and to provide consistent paramedic level staffing.
In 2014, Texas A&M EMS absorbed the event and facility staffing responsibilities of Texas A&M Emergency Care Team and The Rec. Sports Medics, creating a single entity for emergency medical care on campus. Through this consolidation of services, EMS is able to provide consistent staffing and access to world-class training. There is now a single point of contact for groups wishing to request medical coverage for their event. We are truly one team with one goal.
From the days of operating a small station wagon and answering one of 10 different phones while sitting on a wooden desk, to today's use of state of the art equipment, training, and resources, Texas A&M University EMS has proven to be one of the most elite collegiate EMS agencies in the United States. It not only serves current students, staff, faculty, and visitors on Texas A&M Campus, but also provides a unique, hands-on mentorship to future EMS, medical, and professional leaders.